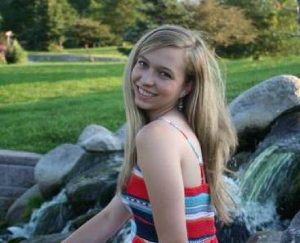 From Gazette Article:
El Paso County high school grad earns rare honor
By: Debbie Kelley
June 24, 2014
A 2014 high school graduate from Edison School District 54JT has pulled off a trifecta in Zonta Club winnings, an accomplishment a local student has never before achieved.
Audra Burke brought home top honors and top dollars from competitions at local, multistate and international levels. The Zonta Club financially rewards young women ages 16-21 who have stellar academic records and noteworthy community involvement.
Burke won $2,000 from the Zonta Club of the Pikes Peak Area for placing first among 12 applicants from southern Colorado and another $1,000 from the district pool of 21 contestants from four states.
At this month's international stage, Burke was one of 32 finalists from 17 countries. She was one of 10 youths to win money, garnering another $4,000 toward her college education.
"It not only recognizes the hard work I've put in – even if I'm not the best at something I put forth my best effort – it also says something about the community I've grown up in," she said Monday. "I've lived on a ranch south of Rush my whole life, and the community has supported me all
the way."
Burke's application, consisting of her academic and extracurricular achievements, two letters of recommendation and essay questions, stood out for several reasons, said Amanda Lunday, president of the Zonta Club of the Pikes Peak Area.
Burke is articulate, smart (she graduated from Edison High with a 4.5 grade-point average), and has demonstrated leadership skills. She has served on student council and the yearbook staff, been involved with 4-H and volunteered as a teacher's aide at an elementary school.
And the 18-year-old has a rare quality, Lunday said: "humility in leadership."
An example came during a Women's Foundation of Colorado leadership program Burke participated in after her sophomore year of high school. She was chosen by fellow students to represent their class in giving a presentation at the end of the program. Instead of going solo, Burke invited all the girls in her group to stand up and speak as well, which Lunday said indicates humility in leadership.
"We look for someone we think will continue to have an impact," Lunday said.
Burke also expressed her knowledge about the "cliff effect," a situation that arises when women lose eligibility for state benefits as they earn more money but aren't yet self-sufficient. She also wrote about educational needs of girls in developing countries. A lack of education leads to higher rates of infant mortality and poverty, Burke explained on her Zonta award application.
"For being a high school senior, she's able to speak about what's actually happening and bring it home – a 'we studied this and I can see how it's impacting my community' type of thing," Lunday said.
That's exactly what the Zonta Club does, she said. Formed in 1919 as an organization of professional women that supports women and women's causes through advocacy and services, Zonta works to improve the lives of women facing AIDS, domestic violence, poverty and other conditions worldwide.
The Pikes Peak club formed in 1949 and performs educational events and fundraising to benefit local like-minded organizations.
A local girl has never won the district award and advanced to the finals, Lunday said. Burke's win at finals is a crowning achievement, she said.
Burke will leave her hometown on the eastern plains of El Paso County and head to Benedictine College in Atchison, Kan., in the fall to study international business. Her dream job is to work for an international nonprofit organization.
"It's such a cool thing to be honored by a club that does so much good for women," Burke said Monday, while en route to Washington, D.C., with her 4-H club.
Members of the club, the Edison Drylanders, have been fundraising for two years to pay for a trip to the White House, Capitol, Smithsonian and other attractions.
The $7,000 in prize money from the Zonta Club award is only a portion of what Audra has received toward her college education.
She also scored a $13,000-a-year scholarship from Benedictine College and another $7,500 from the school for being a National Merit Scholarship finalist, $1,000 from the Farmers State Bank of Calhan, Ellicott and Falcon, and $1,100 from the American Legion Girls State program.
So she's all set?
"Pretty close," Burke says. "It'll be different after living in the same place my whole life. But I want to make the world a better place and let people know where I grew up. It's someplace special."