The Road Not Taken
Robert Frost (1874-1963).

Two roads diverged in a yellow wood,
And sorry I could not travel both
And be one traveler, long I stood
And looked down one as far as I could
To where it bent in the undergrowth;

Then took the other, as just as fair,
And having perhaps the better claim,
Because it was grassy and wanted wear;
Though as for that the passing there
Had worn them really about the same,

And both that morning equally lay
In leaves no step had trodden black.
Oh, I kept the first for another day!
Yet knowing how way leads on to way,
I doubted if I should ever come back.

I shall be telling this with a sigh
Somewhere ages and ages hence:
Two roads diverged in a wood, and I
I took the one less traveled by,
And that has made all the difference.

We secure our friends not by accepting favors but by doing them. - Thucydides (471 BC - 400 BC), Peloponnesian War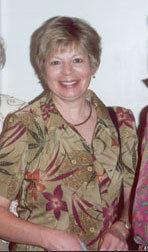 Kris Wells
1950-2006
Obituary and Memorial
(Don't miss the Slide Show)




The only cure for grief is action. - George Henry Lewes

Grace was in all her steps. Heav'n was in her Eye. And in every gesture, dignity and love. - Milton
Be open to your dreams, people. Embrace that distant shore. Because our mortal journey is over all too soon. - David Assael, Northern Exposure, It Happened in Juneau, 1992
As we look deeply within, we understand our perfect balance. There is no fear of the cycle of birth, life and death. For when you stand in the present moment, you are timeless. - Rodney Yee
If you make it plain you like people, it's hard for them to resist liking you back. - Lois McMaster Bujold, Diplomatic Immunity, 2002
Energy is eternal delight. - William Blake (1757 - 1827)
Family isn't about whose blood you have. It's about who you care about. - Trey Parker and Matt Stone, South Park, Ike's Wee Wee, 1998
You must give some time to your fellow men. Even if it's a little thing, do something for others - something for which you get no pay but the privilege of doing it. - Albert Schweitzer (1875 - 1965)
If we have the opportunity to be generous with our hearts, ourselves, we have no idea of the depth and breadth of love's reach. - Margaret Cho, weblog, 03-09-04
Seek not, my soul, the life of the immortals; but enjoy to the full the resources that are within thy reach. - Pindar, 518-438 B.C.