Zonta Zephyr



April 2005 Newsletter
Volume V, Issue 4
PEAK VIEW!

from Betty Hudson
Hello, Ladies!
What a good time it was at our last meeting with so many members in attendance, so many new members and so much interest in our club activities!
There are several events in April starting with our Area IV Meeting, April 1-2. Sharon Roggy, our very own member and the Area IV Director has a fun and informative time planned starting with a wine tasting at new member, Laura Stamp's home on Friday night and continuing Saturday through lunch at the Franciscan Retreat Center. You'll have an opportunity to meet some of the District's past officers and make new friends from the towns around as well as learn more about what Zonta is, so come if you can.
Also this month Eva Mattedi and her Nominating Committee will be calling members to ask you to participate in leadership and on our many committees. A good way to get to know people and to feel involved is say, "Yes!"
Our May Fashion Show is coming up, Saturday, May 14th, and we need to be out inviting people, selling tickets and collecting raffle prizes to make it a success. If you'd like to join in on this, call Kate Brewster, who is chairman this year.
And, of course, don't forget our regular 3rd Monday meeting on April 18th. So put on your walking shoes, join in and let's help women help women. We need you all!
-Betty Hudson


Quotation of the Month
"There is more in us than we know. If we can be made to see it, perhaps, for the rest of our lives we will be unwilling to settle for less."
- Kurt Hahn, Founder of Outward Bound
Click here for list of past quotes!
Betty's Bits
by Betty Edwards
Seems like news from/about Afghanistan has been everywhere I have looked these last weeks so that is what I'll share this time.
Jillann Richardson-Rohrscheib - you'll remember that Jillann, a member of the Jefferson County Club, was our speaker in October 2004. She shared her experiences in many different countries working for NGO's in the area of micro-lending.

Joanne Bass, Jefferson County Club, has shared Jillann's latest email with me and I showed part of it to you at our last general meeting. Here it is for those couldn't be at the meeting.

3/16/05 email:
"Today Jean-Marie and I went hiking up Gulghundi-this is the mountain where the water source for Charikar is located.
#1-ACTED, with money from ECHO (Europeans) rehabilitated the water collection and pumping stations soon after the war was over. I am standing in front of the sign at the bottom of the hill - the road leads up into the mountains where there are several large villages/communities. Everyone hikes this hill to collect water for their homes from the pumping station and fountains."




Zonta International Service Project in Afghanistan - This is one of three countries that Zonta has pledged to support during the 2004-2006 biennium. Afghanistan and Bosnia/Herzegovina are continuing projects, with a new project in Niger.

Zonta has pledged $100,160 from the International Service Fund, Zonta International Foundation. This will support the Afghan Institute of Learning (AIL) and the UNICEF project to reduce Maternal and Neonatal Tetanus.

To learn more about the AIL successes in the last biennium (2002-2004) see your Zontian, January 2005. There it discusses that in 2003 there were no education programs for girls in Mir Bacha Kot. In 2004, the first school for girls was opened. This was a major milestone resulting from the 2002-2004 ZI International Service Project to improve women's lives in Afghanistan.

Three Women's Learning Centers were established by AIL during 2002-2004. Two of the centers have been closed. They are no longer needed! Between March and August 2004, 76 female and 103 male teachers were trained by AIL.

The UNICEF project is a continuation of the one Zonta supported last biennium. In that effort Zonta provided the third round of immunizations for 1,000 vaccination teams in four cities reaching 80 percent of the child bearing age women. Our 2004-2006 funding will support immunization efforts for over 41,000 women.

Just a glimpse of where some of your International Service donations go when we donate to the International Foundation!
-Betty



Fashion Show and Luncheon Coming Up May 14th
by Kate Brewster
It's hard to believe we're planning our 21st fashion show and luncheon event - what a tradition we have in the Pikes Peak Area club!
First of all, a big thanks to all for signing up for the behind-the-scenes work. It's your willingness to see to the details that makes our fashion show/luncheon such a success. I still have about 50 tickets left for sale for anyone who didn't collect tickets at the last meeting or for those who may need more than their original ten tickets. Please call me and I can either deliver or mail them to you.
At this point, everyone should be working to acquire at least two items for our very popular raffle. In the past we've offered massages, jewelry, pamper-me baskets, books, art work, etc. Use your imagination, fill out your raffle sheets and return them to be by the first part of May. All of the donations and donors will be listed in our program.
Our models for this year's fashion show are Teri Hermans, Betty Hudson, Kathy Fortner, Janet Reedy, Susie Nulty and Pat Rosas (thanks all!). I know they will all have a great time showing off their clothing choices from the Shops at Briargate and we will enjoy seeing what they've chosen to wear.
Invitations are being sent to District 12 officers and Past Governors this week, and we hope to have several representatives join us again this year. Remember that our goal is to sell at least 150 tickets, but the ballroom can accommodate up to 300 people so we have a lot of room to expand our attendance.
If anyone has any questions or concerns regarding the fashion show/luncheon, please feel free to call me at 630-8801 or e-mail me at katebrewster@msn.com.


April Birthday
5 - Shannon Rowan

Belated birthday good wishes to Pat Rosas! - March 28th

Member Profile - Pat Rosas
Hi,

I'm Pat Rosas, a Midwestern girl from the farmlands of Wisconsin. I grew up in a traditional Catholic family (meaning large) with seven siblings - 5 girls, 3 boys. I always tell people I never slept in my own bed until I joined the Army. I went to a Catholic grade school and graduated from Plum City High School in a whopping class of 50; I miss that little town.

I worked a couple of dead end jobs before joining the Army and seeing the world. I was an administrative specialist for 20 years working a variety of assignments including Personnel, Security and Intelligence. Through the service I had the opportunity to learn so much about people from all walks of life and from around the globe. I think the underlining reason I made it a career was because I find it amazing how you can put such a diverse group of people together, give them a mission and they will get it done. Only a few questions asked! The travel opportunity hooked me though - I've been fortunate to have had assignments in Germany, Japan, Korea and Turkey and made some great friends along the way. And I found a husband too.

Jerry and I met while we were stationed at Fort Carson back in 1998. He made all of our wedding plans while I was in Turkey and would frequently tell me how people asked him, "Why isn't your bride doing this stuff?" He's a keeper.


Pat at Hanging Lake
near Glenwood Springs
I made good use out of my military educational benefits. After 4 different colleges in 4 different locations I obtained my bachelors degree in Business Management and Masters in Curriculum and Instruction. I cashed out the reminder of the money I had left in my education fund and bought a time share in Sarasota, Florida.
Jerry has also brought children into my life. He has 2 sons and a daughter from a previous marriage and 3 grandchildren. We're currently taking care of the middle grandchild, Joseph. He's 4 and a handful. I must say though, children give you a different perspective on life.
I currently work as an Equal Employment Opportunity Specialist at Fort Carson. I think we as Americans would like to believe we all do treat people equally/fairly based on individual's abilities and merits. I don't think we're there yet and I think too most people don't want to get involved unless it personally affects them. But then there is ZONTA!
I came to my first Zonta meeting based on an advertisement in a paper. I had never heard of Zonta before, but the more I read and get to know fellow Zontians the more I like this organization. I'm drawn to the idea of helping others help themselves. I also think we are very much a global society and the work Zonta participates in around the world has a lasting impact on the lives of the people we help. I am here to help and I look forward to getting to know more about my sisters as I do so.



Click here for a listing of Zonta Member profiles!

Service Committee Update
I just finished our annual report and we are awesome! We donated $4,213.00 to local and international projects. Remember that 1/3 of our funds go to international, and the rest stays here locally to advance the status of women in our community. The most outstanding service is the Liberian Women's Project to which we donated over $900 in products and 95 service hours. Aren't we terrific?

Another hands-on project is the Graduation Party for our first Intercept group. We'll gather to celebrate the accomplishments of 10 young ladies on Friday, May 6 at the Country Buffet in the Citadel Crossing, 6-8 p.m. The cards are signed and many already volunteered at the last meeting. Pat offered to provide 10 gift bags. Rita, Betty, Phyllis, Helen, Leee and Liz all volunteered to provide the disposable cameras. Photo frames should be the 5"x7" size, and Janet and Renee are each providing one, so others are needed. Sharon and Phyllis will each buy one lunch; more lunch money is needed. A 'Congratulations' helium balloon for each girl would be festive decorations. Eva offered to provide transportation if necessary. Rita, Susie, Gail and Kris will be hostesses for the party but others can still join. Come to the April meeting with your donations of gift items or money. Others can still sign up to help! Gracias!!! You're the best!!!

Kris, Service Committee Chairman


Zonta Founders

General Meeting Program
April, 2005


Guest Speaker: Tamara Brody
Topic: "Are you living the life of your dreams?"
Did you know?
On 8 November 1919, the Confederation drafted and adopted Bylaws and a Constitution, and selected the name Zhonta, derived from a Lakhota (Teton Dakota), a language of the Native-American Sioux peoples, word meaning honest and trustworthy. Later changed to Zonta, the word's meaning was incorporated into the Zonta Emblem, which was officially authorized, along with the Zonta colors of mahogany and gold, at the first executive session of the Confederations officers in 1920.


Anyone interested in purchasing a pin from Avon which features a heart with a globe (with Asia on its face) to support the tsunami effort, please send an email to Liz Groothof Croddy at groothofcroddy@att.net
The pin costs $4.25, and $3 goes directly to the tsunami aid effort. (Avon also sells products that support breast cancer research as well as other past goodwill efforts.)
A photo of the pin and information is available at http://www.youravon.com/articles/info_library/heartofasia.html
| | |
| --- | --- |
| Kudos Kolumn | |
KUDOS to Frida Kahlo / Kris Wells for her outstanding performance at the March General Meeting - from all members! See featured links below.

March Meeting with Frida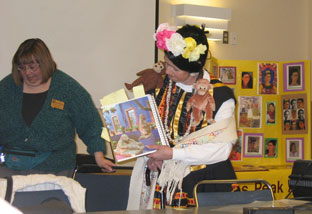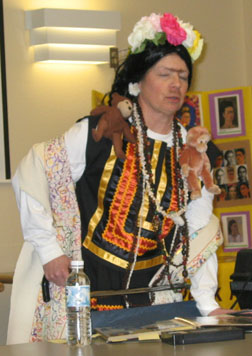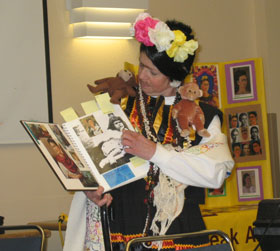 Here you have the opportunity to thank and/or praise your fellow Zontians for something above and beyond. Send all contributions to the newsletter editor - nulty@csdco.com.


Dates to Remember . . .
April 1
Wine Tasting Party at Laura Stamp's home
Remember to bring an appetizer
April 1
Committee Reports due to Teri
April 2
8:30am - 2pm Area 4 Meeting in Colorado Springs
April 4
5:30 pm Board Meeting - Montague's on South Tejon
April 18
General Meeting
April 25
Deadline soon: Mail your dues to Helen Smithwick
May 1
Membership dues must be received by Helen!
May 2
5:30 pm Board Meeting
Intercept Graduation Dinner 6-8pm
Citadel Crossing, Country Buffet
May 14
Fashion Show
May 16
Installation Dinner
June 24-26
ZI: Interdistrict Membership Seminar of the Americas'
All General Meetings, unless otherwise notified, are at:
Gold Hills Substation
705 S. Nevada
5:30 pm for social and food
6-6:45pm-Speaker
6:45-7:45-Meeting
Refreshment Schedule for Upcoming Meetings

| | | |
| --- | --- | --- |
| MONTH | FOOD | DRINK |
| April | Sharon Roggy & Kate Brewster | Rita Jones |
| May | Installation Dinner | |


Thank you ladies!
Please send comments and suggested information for the newsletter to nulty@csdco.com.
© 2005 Zonta International