Zonta Zephyr
Zonta Club of the Pikes Peak Area
December 2004 Newsletter
Volume IV, Issue 12
PEAK VIEW!

from Teri Hermans
As Zonta moves into its 86th year of advancing the status of women, and we all look forward to the holidays, think about how you have personally contributed to the Zonta Club of Pikes Peak Region this year and assess how you will contribute in the coming year!
Your involvement and contributions are what make our club!
HAVE A VERY HAPPY AND SAFE HOLIDAY SEASON!
Hope to see you at the holiday Party at Phyllis Zell's House on Sunday, Dec 12!
And remember Nut money due to Pat Kosley by Dec 6!

-Teri


Betty's Bits
by Betty Edwards
Member news -
We welcome three new members: Laura Stamp and Pat Rosas, who were installed at the November meeting, and Diane Riggs who was out of town so will be installed probably at the January meeting. It is always so exciting when women chose to join us in our efforts to increase the status of women - true Zonta hearts!
Looks like Mary Louise Clay may be selling her home and moving to be closer to her family. Hope to see her soon and hear more about this episode!
Enjoyed my trip to Canon City with Sharon Roggy, A4 Director. These AD meetings are so important to the area clubs - shows an interest in what they're doing and shows a personal caring. As you can imagine, Sharon is great at that! Of course, I had an episode concerning my competitive nature. Surely, I thought, I am really doing a lot of exercise - Tai Chi and walking primarily. So I proceeded to work it into the conversation. However, I have to admit that Sharon outdoes my efforts - stationary bicyle, walking, etc., etc. OK, she wins!
Others -
News from Jillann Richardson-Rohrscheib, our October speaker and Jefferson County Zonta member: She is in France interviewing with a group called ACTED. They are founding a new NGO called OXUS that would be responsible for all of their microlending programs around the world. Jillann has been chosen to be responsible for getting Oxus-Afghanistan up and running, then on to other OXUS endeavors. She is leaving Thanksgiving Day for Kabul for 4 weeks, returning to Denver for the Christmas holidays, then back to Kabul. She closed with, "It's time for lunch - quiche and a pastry washed down with a glass of Bordeaux..." My kind of meal!
Many of you will remember Kathleen Stevens, former Executive Director of the Women's Resource Agency. Kathleen has spoken many times at our club meetings. She was recently named Woman of the Year by the Business and Professional Women of Pikes Peak honoring her 25 years of various agency service. She had been at the WRA from 1999 to 2004 and left to go into consulting. We wish her well.
- Betty Edwards


Quotations of the Month
"You have to accept whatever comes and the only important thing is that you meet it with courage and with the best you have to give."
and
"Courage is more exhilarating than fear, and in the long run it is easier."
- Eleanor Roosevelt, humanitarian.

December Birthday

7 - Janet Fuehrer, friend of Zonta

Member Profile - Gail Kozhevnikov
Greetings, Bonjour, and Dobru den to all my wonderful Zontian sisters! I am Gail Kozhevnikov and have enjoyed being a member of this fabulous organization since some time in the early 80s. There was absolutely no question that I would become a member of this most important service organization. I had not only the greatest professional mentors that a young university student could hope to have, I also had two of the most devoted Zontian women directing my career and my civic contribution as a woman who has a voice and resources to make a difference for all women in this world. You see two of the most influential women in my life were and are Dr. Monique Amerman (my former French professor) and Anna Taussig (my former Russian professor). As a student and a work study employee in the language department at what was then the University of Southern Colorado, I was tapped to get involved in the activities of the Pueblo chapter and upon moving to Colorado Springs transferred my membership here.



Betty Edwards and Gail Kozhevnikov
at 2000 District Conference

I, like so many of you, love to help others, love learning languages and traveling the world. I have been a teacher of French and Russian for over 20+ years in such cosmopolitan places as Wyoming, Kansas, Florence (Colorado that is) and for most of that time at Academy School District 20 here in beautiful Colorado Springs. I have also taught abroad in Africa, France, Russia, and Kazakhstan. I currently am an Assistant Principal at Pine Creek High School after a three year stint in Human Resources. I would have never dreamed that this is what I would be doing, but I am working diligently to be a respected role model for both teenagers and teachers alike. Although my job is at times challenging and frustrating, I feel so fortunate to have a great life filled with unexpected opportunities and joys.

Upon one of my many overseas travels and international youth camp experiences, I met the absolute international man of my dreams in Kazakhstan, Pavel Grigorivich, my now "Americanized" husband. He too is an educator; one of those who is greatly admired and makes a huge difference for many of his students. He teaches World History and of course Russian at Mitchell high school and he is the Russian program at UCCS and PPCC. We are fortunate that both of Pavel's children have immigrated to the US and live in Colorado Springs. Roman (Roma to us) is a college student and an American citizen by choice. Yelena (Lena) is married to a former Army man who is now approaching the conclusion of a year's private contract in Iraq. We are so happy that our little Russian family is near.
Pavel and I love to travel to Russia and Kazakhstan each summer to visit our beloved, extended Russian family and we sponsor an international trip every other summer for students and adults. This June, we look forward to exploring France, Spain, Monaco, Italy, and Greece. It's not to late to join if you get the travel itch!
My biggest regret in the recent past is my inability to be a vital, active member of Zonta forging wonderful, meaningful relationships with all of you! My UCCS class is always scheduled during our meeting time on Mondays and as I'm learning, this Assistant Principal position leaves little time for any rest. The youth of today have so many, varied activities which all require the talents, coordination, and sponsorship of the generous adults who devote their time to enable them to pursue their passions!
I consider membership in Zonta a true privilege and love the window of opportunity it opens to me to become a better citizen of my own neighborhood and in this world at large. It is awesome to be in the company of like minded women who devote themselves to all that is good and kind!



December 2004 Service Project:
Purchase or collect needed objects for women who have settled in
Colorado Springs from Liberia, Africa.
We are working with the Refugee Division to identify which women need assistance and suggested items. Provide needed items for Liberian Women who have come to Colorado Springs this year. Please bring to our holiday party at Phyllis' house. Thank you!
Zonta was asked to help with the following people:
Household One- one woman and one senior woman (they purchase food separately)
Household Two- one man and one pregnant woman (baby items would be useful); (purchase food separately)
Household Three- one woman and one man (brother and sister)
Household Four- one woman
Household Five- husband, wife, child (age not given)
Recommended items include new or gently used:
Sweatshirts, warm (perhaps thermal) T-shirts, in medium or large
White socks
Scarves, hats, gloves
Warm jackets
Any household items including pots/pans, dishes, silverware, linens, etc.
Toiletries
Non-Perishable foods - especially rice
Gift cards for Walmart or Target (close to their residences)
If you have any questions, please call Kris Wells.
The planning meeting to determine how we might meet other needs, such as job skills or help with English, has been postponed until the first of the year. More info later.
We will be glad to collect your items or gift cards at the party to deliver directly to our recipients. Please let us know if you would like to go with us and we can then set a date. It will be a wonderful experience to meet the women we will be working with over the next few months.
Thank you, -Renee and Kris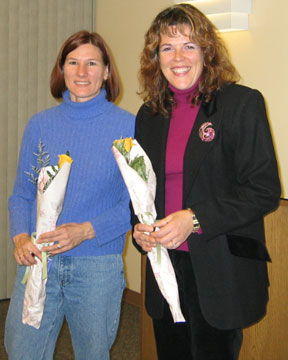 New members - Pat Rosas and Laura Stamp
See photos from our November meeting courtesy of Rosalie Dorland.

Special January Meeting - Sunday, January 23, 2005

Our January program has been designed in honor of Amelia Earhart. We will be gathering on January 23, a Sunday afternoon, at 4 PM sharp... not our regular meeting night. There will be no regular meeting but we will be treated to a special event at Peterson Air Force Base.

To simplify entry through security and onto Peterson Air Force Base, an Air Force bus will pick us up just outside the Peterson gate (take Platte east to Peterson and park in the Dairy Queen/Stripmall parking lot just outside the gate). The bus will leave the parking lot at 4 PM and take us through security and we'll be given an escorted "Windshield Tour" of Peterson. Our bus will then bring us to the briefing site (either Dining Hall or OClub depending on availability).

We will be given a briefing regarding Peterson Air Force Base-How it fits into the big picture, The roles of the various Air Force Bases in Colorado Springs, Cheyenne Mountain- Norad, Schriever, and the AFA. We will explore the responsibilities and limitations of women in these Air Force locations and their participation in events around the world.

Following the briefing we will enjoy dinner in the company of airmen. We will have ample opportunity to question them. Cost will be under $10.00 per person.

The bus will return us to our cars between 8-9 PM.

For questions or clarifications please contact Pam Sufak.

Fund Raising Project





Please send your nut money to Pat Kosley by December 6th.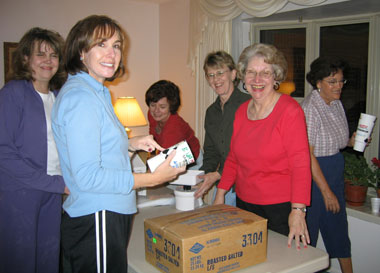 Nut Packing Pics! courtesy of Rosalie Dorland
| | |
| --- | --- |
| Kudos Kolumn | |
KUDOS to Eva Mattedi - for selling the most nuts and contributing to our club through the silent auction!

KUDOS to Renee Troppe - for providing so many interesting silent auction items! Australia, here we come!

KUDOS to Kris Wells - for selling almost $900 worth of nuts!

KUDOS to Phyllis Zell for offering to host our Holiday Party again this year. You are the Hostess with the Holiday Mostest!

Here you have the opportunity to thank and/or praise your fellow Zontians for something above and beyond. Send all contributions to the newsletter editor - nulty@csdco.com.



Featured Links of the Month


Marian de Forest
Zonta Founder

The November Meeting Program:
"The program on Reading for the Blind and Dyslexic was very informative. I had no idea such a program existed. Good job!!!" - Earlene Herman
"Incredibly informative and inspirational, for the willing there is a way!" - Patricia Rosas
Dates to Remember . . .
| | |
| --- | --- |
| December 2 | 5-7 pm NewZ Committee Meeting - Sencha's Restaurant |
| December 12 | Holiday Gathering |
| December 13 | 5:15 pm Board Meeting - La Baguette, 4440 N. Chestnut |
| January 23 | Special January Meeting |
All General Meetings, unless otherwise noted, are at:
Gold Hills Substation
705 S. Nevada
5:30 pm for social and food
6-6:45pm-Speaker
6:45-7:45-Meeting
Refreshment Schedule for Upcoming Meetings

| | | |
| --- | --- | --- |
| MONTH | FOOD | DRINK |
| December | Holiday Party | |
| January '05 | Special Amelia Earhart Celebration | Sunday, January 23rd |
| February | Phyllis Zell and Betty Edwards | Betty Hudson |
| March | | Susie Nulty |
| April | Sharon Roggy & Kate Brewster | Rita Jones |
| May | Installation Dinner | |


Thank you ladies!
Please send comments and suggested information for the newsletter to nulty@csdco.com.
© 2004 Zonta International