Zonta Zephyr
Zonta Club of the Pikes Peak Area
August 2004 Newsletter
Volume IV, Issue 8
PEAK VIEW!

from Renee Troppe
Hello to all of you. Our club president, Teri, believes in the power of the team, and thus is asking our board to take turns writing this column. I have to agree how important it is that each of us make a contribution to Zonta, whether it be financial, time, ideas, support. We are Zonta.
I'm looking forward to my second Ice Cream Social on August 15 at 2 pm. There will be another special item from the NY Convention for a silent auction, so bring your checkbook! Also, let's really support Care and Share, our chosen beneficiary for this August, and bring many non-perishable items for those in need in our community.
Since I was a child, fall has meant the beginning of the year for me and I still feel renewed after summer adventures. I hope you will feel the same and bring your energy to our speakers, fundraising programs and knowledge gained from meetings and Susie's newsletters. We will look forward to committee reports at the September meeting so we can share the strength in what are members are doing. More fundraising info later, but Pat Kosley suggested we add to our monthly silent auction of Zonta items by contributing something unique we find in our travels. I am awed by all the trips our Pikes Peak Club Zontians take and can't wait to see what you might bring back.
Are you going to the Cow Palace for our District meeting in September? I am really interested in the historical trip and talk they have planned. We will also meet our new Governor, Evelyn Haskell. Please email Teri, so we know who will be there as we need to identify our delegate.
Thanks,
Renee Troppe
Vice President


Quotation of the Month
"There are two kinds of people, those who do the work and those who take the credit. Try to be the first group; there is less competition there."
- Indira Gandhi







August Birthday
18 - Gail Piper


Zonta International - New York City Convention 2004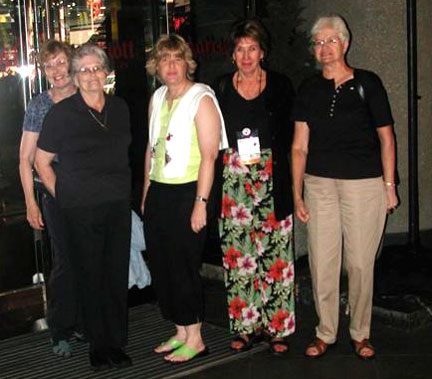 Evelyn Haskell, Jackie Sammons and others
photo courtesy of Mary Benoit

International Convention "First Timer"

by Renee Troppe

My badge said it all. Under my name was the green ribbon that said "First Timer". That got me a free Amelia Bear pin, a welcome into the long awaited elevators (imagine 2700 woman taking the elevators at the same time), women saying, "Me too" and others saying "Welcome. What do you think of all this?" I was told by many that once you attend international convention, you will have a different feeling about Zonta. I assumed that feeling would be to fly around the world and meet all our sisters to see what they are doing in their own towns. While that sounds very appealing, instead, I felt an urgency to see our Pikes Peak Area Club become stronger in making a difference in our community. Without our individual clubs there would not be Zonta International. The potentional of ZI rests on how well we participate locally. I am so thankful I found Zonta and a group of women around the world who share such important values. Attending the 2004 Zonta International Convention in New York City was an honor and an education I will not forget. Whether or not we get to International Conventions, our most important work is done right here in the Pikes Peak Area. We should all be very proud of our opportunity to make a difference in advancing the status of women.


NYC, July 4, 2004: Renee with her British Columbian friends, Sannee McFarlane, Roz Mellander (new District 8 Governor), Pat Martin Bates and behind is Sannee's family guest, 15 year old Niki.



57th International Convention Scrapbook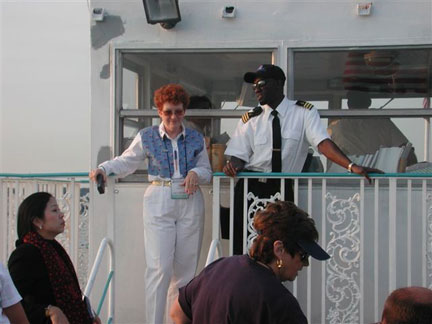 Mary Benoit on 4th of July Cruise
photo courtesy of Mary Benoit
League of Women Voters
Voter Registration Project
Call Ann Langin-Hooper at 495-8319 or email her at traveleramlh@cs.com.
Let the community know how much Zonta cares about the status of women!
Contact Betty Edwards or Renee Troppe regarding your volunteer work.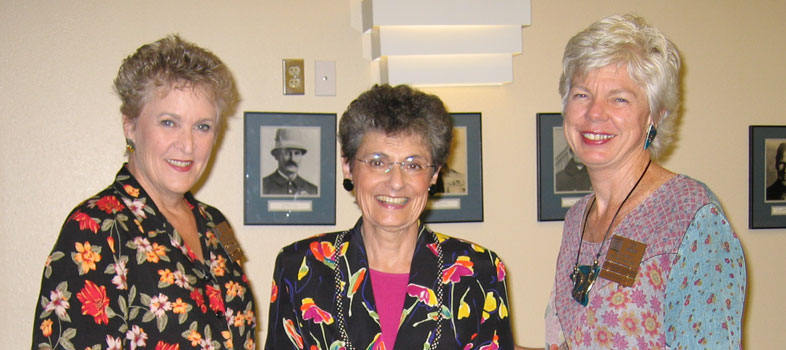 July Meeting Guest Speaker: Marcy Morrison (center)
with Past President, Pam Sufak (left) and President Teri Hermans
photo courtesy of Rosalie Dorland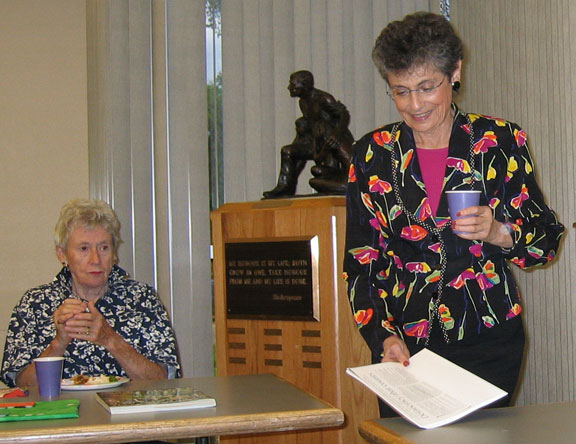 Mayor Marcy Morrison and Member, Phyllis Zell (left)
photo courtesy of Rosalie Dorland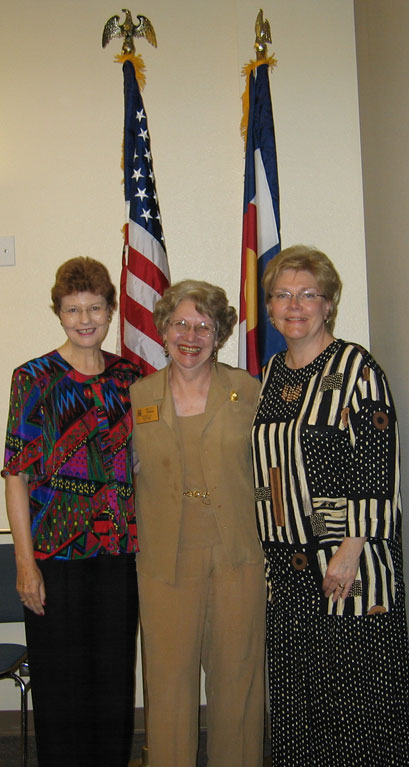 Former International Membership Chair, Diane Leggo from Australia with Betty Edwards and guest, Judy Offerdahl
photo courtesy of Rosalie Dorland
---
Member Profile - Eva Mattedi
Hi, my name is Eva Maria Mattedi.
I joined the unique and wonderful Zonta Club of the Pike`s Peak area after being invited a second time by Club member and dear friend Gail Koshevnikov to speak about my upbringing in and escape from East Germany to West Germany in 1967 at the fearless age of 20!
I then felt it was the perfect timing and the ideal group to volunteer with and engage in projects that Zonta stands for. I felt very honored to represent our club as Director for one year and thank all the members for their trust and help and encouragement, as I was still a "Greenhorn". One of the Highlights was the attendance of the International Zonta Conference in Sweden, two years ago. Please, each member, do consider to be part of the very next Conference Down Under as it will truly make you realize the power of our big organization to change women`s lives.
I was born in Brandenburg/ Germany and grew up in Thueringen (Jena, Weimar), a beautiful forested area of then communist East Germany that reminds me a lot of the Manitou Springs area, both in quaintness and history. I love this area so much that in my heart it will always be home for me!
Growing up we were often given great cultural presentations by the Russian soldiers and their families, stationed in East Germany, plus being influenced by my mother`s connections with Russia as a child herself I became very interested in the language and the country. After graduating from High School I choose to study Russian and German.
Two years into my studies I met my future first husband who was visiting his family and had lived in the West for many years already. He played the major role in my escape via the Czech and Austrian border. We were very lucky that nobody near the Czech border watched us trying to build a hiding place in his car. There were plenty of heavily armed and eager soldiers all around ready to make an arrest or to shoot, if necessary.... I won`t go into more details for now as I still like to write about this experience and try to keep the memory undiluted.
The driver of the car really deserves the most credit for his courage and ability to deal with the suspicious border patrols. There was an extreme high penalty for anyone who helped East Germans to escape.
Even though both sides, the guards on the Czech and Austrian border, searched the car, I was not discovered. It was a close call, however, and every second is engraved in my memory. Nobody probably could imagine that a person would fit in the little and uncomfortable space we had created. That was our luck and the fact that the guards were not very familiar with this type of car.
I remember being pulled out of the car on the Austrian side and seeing those cows grazing in the lush country side with their humungous bells ringing on their necks, I guess it was a "Welcome" Austrian style... It didn`t seem real that now I had entered an entire new world, and only later did I realize how much I missed my friends with whom I grew up, who I would not be able to see for about 10 years. Until a certain " Amnesty" later I was still considered an East German citizen and would have been penalized if I tried to go back.
I continued my studies in additional languages and Physical Education in Heidelberg and Tuebingen, and after my first year of teaching at a school for children with special needs decided to specialize in Speech Therapy and earned my Masters in Special Ed.

I had been a single Mom for some years when I met my wonderful and supportive second husband Ric who many of you got to know at various events. I met him at a Folk Dance Class in the Birth house of Albert Einstein, and we have danced together ever since....

In 1981 we married and came to the United States, as Ric`s work Contract with Telefunken ended. We lived in Dallas first (what an adjustment for me !!!), and five years later jumped at the opportunity to move to Colorado which is home for Ric.

I joined the ranks of Mary Kay Cosmetics soon after I arrived in the States. Being associated with great role models and excellent teaching gave me confidence in the English language and taught me people skills. I especially have always since then enjoyed working closely with women.

My special Hobbies are travelling the world, reading, writing and Nature. My true passion during late summer and Fall is Wild Mushroom hunting, demanding physically and time-wise, but keeping me in shape and creating a balance for my otherwise busy life.


Eva and Ric
I am very proud to be with all of you energetic, intelligent, fun and professional women in Zonta. Thank you for asking me to join and for all your kind ways each one of you has enriched my life!!
With Zonta Love
" Gracias"...."Cpacubo"...."Merci beaucoup"...."Grazie"...."Danke schoen!"
Eva
---
Waldo Canyon July 31, 2004 "Walk-and-Talk"
(l to r) Kirsten, Barb, Kris, Dee, Shannon, Sharon, Kate, Susie
7 1/2 mile hike completed in 2 hours 10 minutes
---
Kudos Kolumn
KUDOS to Pin-Makers! from Ellen Slavitz: "I wanted to remember to give kudos to those who thought of and executed the Colorado stamp pins. EVERYONE I EXCHANGED WITH LOVED THEM, their beauty and the fact that we made them ourselves. So, a big thank you for that WONDERFUL IDEA."

KUDOS to Renee and LWV helpers! for assisting the League of Women Voters in the registration drive.

KUDOS to Pam Sufak - for arranging a terrific July meeting program - the Mayor of Manitou!

KUDOS to Kris Wells - for organizing the first Zonta Club "Walk-and-Talk" enjoyed by 5 members and 4 guests! Thank you!



Here you have the opportunity to thank and/or praise your fellow Zontians for something above and beyond. Send all contributions to the newsletter editor - nulty@csdco.com.



| | |
| --- | --- |
| Zonta Founders | |
Dates to Remember . . .
August 2
August Board Meeting
***Cancelled***
August 15
Ice Cream Social (No General Meeting)
September 7
5:15 pm Board Meeting
Mollica's - Garden of the Gods Road
September 20
General Meeting
September 24-26
District 12 Conference, Lamar, Colorado
October 4
5:15 pm Board Meeting
Location TBA
October 18
General Meeting - International Potluck
November 8
Zonta International Day
November 25
International Day for the Elimination of Violence Against Women
All General Meetings, unless otherwise notified, are at:
Gold Hills Substation
705 S. Nevada
5:30 pm for social and food
6-6:45pm-Speaker
6:45-7:45-Meeting
Refreshment Schedule for Upcoming Meetings

| | | |
| --- | --- | --- |
| MONTH | FOOD | DRINK |
| August | Ice Cream Social | |
| September | Helen Smithwick & Shannon Rowan | Kris Wells |
| October | International Pot Luck Dinner | |
| November | | Susie Nulty |
| December | Holiday Dinner | |
| January '05 | Teri Hermans & Liz Groothof-Croddy | Helen Smithwick |
| February | Phyllis Zell and Betty Edwards | Betty Hudson |
| March | | Susie Nulty |
| April | Sharon Roggy & Kate Brewster | Rita Jones |
| May | Installation Dinner | |


Thank you ladies!
Please send comments and suggested information for the newsletter to nulty@csdco.com.
© 2004 Zonta International